Shop Fashionably for a Cause
October 1, 2018 through October 31, 2018
---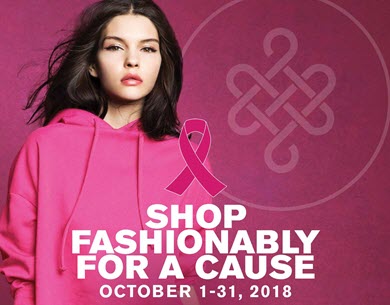 Fashion Outlets of Chicago is supporting Breast Cancer Awareness Month this October!
Proceeds from Savings Pass* purchases ($5 each) will benefit Bright Pink® to support the prevention and early detection of breast and ovarian cancers in young women.
*The Fashion Outlets Savings Pass provides special offers and discounts from participating stores and restaurants (worth up to $800 in savings from participating retailers).
More About Bright Pink®
Bright Pink® is saving women's lives from breast and ovarian cancer by empowering them to live proactively at a young age. They target the 52 million women between the ages of 18-45, as well as the people who love and influence them.
For more information about Bright Pink®, visit www.brightpink.org.
THE COLLECTION Unveiling Event
October 5, 2018 7:30 PM - 10:00 PM
YOU'RE INVITED TO A SPECIAL RECEPTION CELEBRATING THE UNVEILING OF NEW WORKS BY DERRICK ADAMS...
Parties at Claire's
Now through December 31, 2018 | Claire's Outlet
Are you looking to party? Celebrate at Claire's! Claire's hosts parties of all types in-store -- be...