Shop Fashionably for a Cause
Now through October 31, 2019
---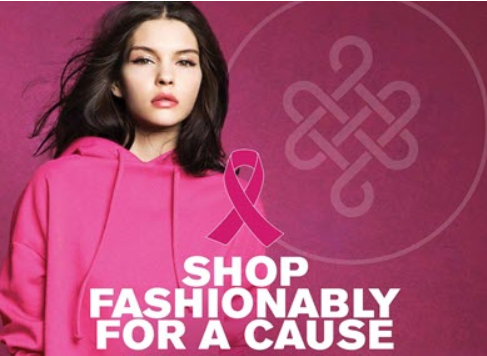 Fashion Outlets of Chicago is supporting Breast Cancer Awareness Month this October!
Proceeds from Savings Pass* purchases ($5 each) will benefit Bright Pink® to support the prevention and early detection of breast and ovarian cancers in young women.
*The Fashion Outlets Savings Pass provides special offers and discounts from participating stores and restaurants (worth up to $800 in savings from participating retailers).
More About Bright Pink®
Bright Pink helps to save lives from breast and ovarian cancer by empowering women to know their risk and manage their health proactively. When Bright Pink was founded in 2007, there were virtually no resources available for women with strong genetic or family histories of breast and ovarian cancer who wanted to be proactive about preventing a diagnosis. In the 12 years since Bright Pink's founding, the organization's efforts have helped to shift the national conversation around breast and ovarian cancer from one focused on awareness and treatment to one focused on action and prevention
For more information about Bright Pink®, visit www.brightpink.org.
Tory Burch Exclusive Shopping Event
October 25, 2019 through October 27, 2019 | Tory Burch Outlet
Exclusive Shopping Event Friday 6-9 PM, Saturday-Sunday 9-11 AM Tory Burch Exclusive Shopping Event ...
Jamming in My Jammies
November 8, 2019 5:00 PM - 8:00 PM
Jamming In My Jammies Friday, November 8: 5PM – 8PM Come dressed in your festive holiday pa...