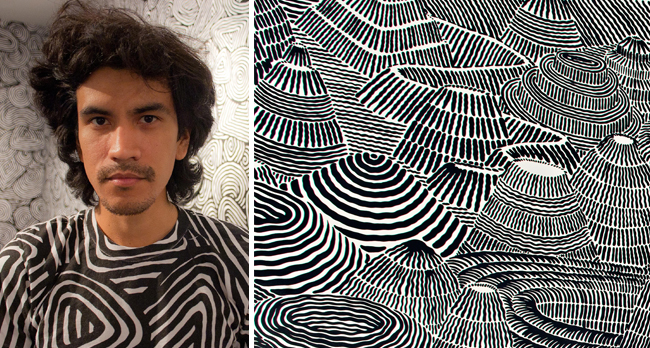 Landscape Study, 2013
Acrylic paint on existing wall
Variable dimensions
Alvaro Ilizarbe, a Los Angeles based artist, was born in Lima, Peru. Alvaro moved with his family to Miami, Florida (US) in 1989. He attended the Art Institute of Ft Lauderdale, Florida, aquiring an AA in graphic design.Ilizarbe's work is influenced by pre-columbian art, textiles, tileable patterns, nature and color. Color adds layers of emotions conducive to prescribed feelings.The absence of color in his work is a way of connecting with the viewer in an un-adulterate way. The work starts out as a clean slate for interpretation between the viewer and the artist. Ilizarbe's installations transform spaces into different dimensions distorting perception and depth of field. Since his recent relocation to Los Angeles his work has taken on an attention to geography. Landscapes of a time long before civilization emerged.