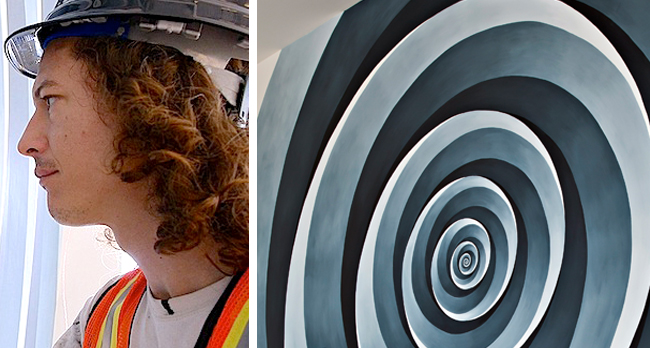 Circle Spiral (Relax Your Gaze), 2013
Archival latex paint on existing wall
Variable dimensions
Bhakti Baxter was born in Miami Florida in 1979 where he currently lives and works. Baxter received his BFA from the New World School of the Arts College in Miami and his work has been featured in several group and solo exhibitions in Miami and around the world. Solo exhibitions include the Museum of Contemporary Art in North Miami in 2002, the Emmanuel Perrotin Gallery in Paris, France in 2005, Bravin Lee Programs in Manhattan, New York in 2009, Fredric Snitzer gallery in 2007, Federica Schiavo Gallery, Rome in 2010, and Gallery Diet, Miami, 2011.

Working in a variety of media including collage, sculpture and drawing, Baxter's goal is to disorient and disrupt accepted boundaries as he questions common perceptions of the mundane. Investigating the territory amid science and spirituality, his practice aims to bridge a medial relationship between the seemingly ordinary and the interpretive freedom of abstraction. Baxter's art is in constant dialogue with natural systems, exploring how the mind interacts with matter while acknowledging the importance of exercising intuition to locate explanations.