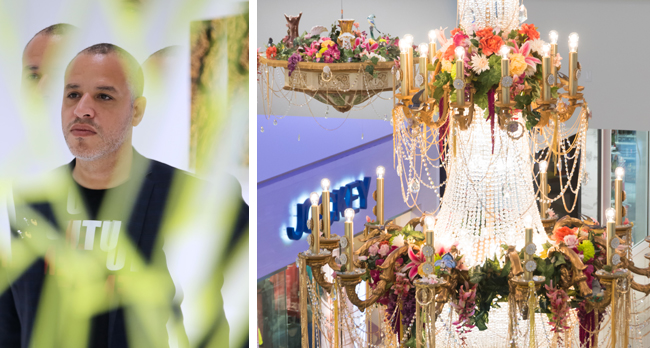 A Grand Love Story (analog love in a digital age), 2016

Appropriated vintage chandelier, gold plated necklaces, crystal, glass, porcelain, metal, vintage jewelry, shattered tempered auto glass and artificial flowers



Carlos Rolón/Dzine (b. 1970, Chicago, IL) attended Columbia College Chicago with a concentration in painting and drawing. Rolón has been recognized for his elaborately crafted paintings, ornate sculptures and works that come out of American, Latino and uniquely based subcultures. His studio practice investigates pop culture, craft, ritual, beauty and its relationship to art history, subculture, appropriation and the institution. As a first-generation immigrant of Puerto Rican decent, the artist creates objects questioning the concept of luxury and craft making to explore questions of identity, integration and aspiration. His work also represents a detailed examination of curiosity and the process of art making and the cultures surrounding this. The work often addresses his biography by melding memory and the imaginary with carefully crafted, hybrid works that are playfully situated between the contradictory worlds of conspicuous consumption and urban artifact. The work is at once melancholic, excessive and exuberant, poised somewhere between celebration and regret. Rolón illuminates how the masculine can become delicate and the how the baroque can be minimal. The artist often channels this approach with site-specific installation work, vivid large-scale paintings and ornate sculptures in various materials expanding on ideas of self-reflection and imagined luxury. This approach questions not only cultural identity, but also its place within the confines of the institution. The works ultimately produce a hybrid language of social practice, painting and sculpture inviting the viewer to engage in discourse and discussion.
Rolón has had solo exhibitions at The Dallas Contemporary, Dallas; Bass Museum of Art, Miami; Baltic Centre for Contemporary Art, Gateshead, UK; Museo de Arte de Puerto Rico, San Juan, Puerto Rico; and CAM Contemporary Art Museum, St. Louis. His work has also been exhibited in group shows at The Museum of Contemporary Art, Chicago; Marta Herford Museum, Herford, Germany; Museum Het Domein, Sittard, The Netherlands; Museum of Contemporary Art, San Diego; Museo del Barrio, New York and Centro Atlantico de Arte Moderno (CAAM), Canary Islands; Oakland University Art Gallery, Michigan.
In 2007 Rolón represented Ukraine in the 52nd Venice Biennale. He is a recipient of the Joan Mitchell Foundation award for Painting and Sculpture. Rolón's work is included in the following public collections: Bass Museum of Art, Miami; Brooklyn Museum, New York; City of Chicago Public Art Collection; Deagu Art Museum, Deagu; Museo del Barrio, New York; Museo de Arte de Puerto Rico, San Juan, Puerto Rico; Museum Het Domein, Sittard, The Netherlands; Museum of Contemporary Art, San Diego; Nerman Museum of Contemporary Art, Kansas City; and Pinchuk Art Centre, Kiev, Ukraine, among others.