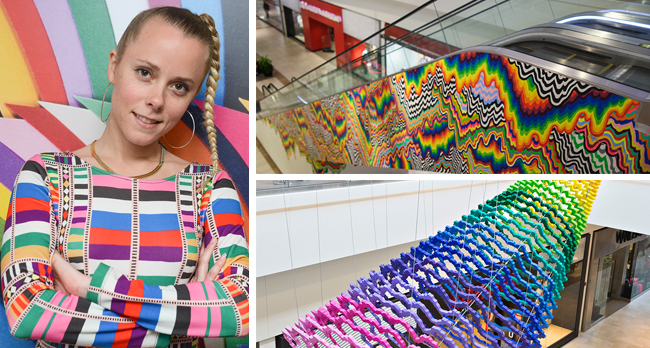 Drippy, 2013

Acrylic paint on existing wall
Variable dimensions
Wormhole, 2013

PVC, spray paint, wire
96 x 96 x 240 inches
American artist Jen Stark was born in Miami, Florida in 1983 and received her BFA from Maryland Institute College of Art in 2005, majoring in fibers with a minor in animation. Her kaleidoscopic artwork brings to mind fractals, rainbows, geodes and topographic maps. Although Stark is most recognized for her paper sculptures, she has explored a variety of media including wood, drawing and animation. Her ideas are based on replication and infinity as well as hypnotic, optical designs that mimic mandalas and sacred objects.

Stark's captivating sculptures can be traced back to a study abroad trip in the south of France, during which a declining dollar forced Jen to choose an affordable art medium with great potential.

Using her vivid imagination and an X-acto knife, she is a modern day magician who transforms humble materials like construction paper and glue into fantastic, intricate sculptures that mesmerize the eye. Her optically and methodologically baffling sculptures, animations and drawings gather inspiration from plants, outer space, microscopic designs in nature, color, math and science.

Stark has exhibited widely across the US with major shows in, NYC, Seattle, Miami, Washington DC, Chicago, Thailand, Canada and Australia. Her work is part of the West Collection in Oaks, PA, the Microsoft Art Collection in Redmont, WA, the Museum of Art in Fort Lauderdale and the Museum of Contemporary Art in Miami. Stark lives and works in Miami, FL.